I think I have been to Manchester before some where in my dim distant past, but last weekend Peter and I spent 24 hours there, and thoroughly enjoyed it. We were blown away by the slick service, the sophistication and the fantastic energy of the city.
We went to Manchester to see John Mayer who was playing at Manchester Arena – I have to admit that you cant help thinking about the horrific attack that took place there two and a half years ago, but as I said to somebody, you cant live your life in fear, and the atmosphere inside was certainly fearless and electric.
But I am getting ahead of myself. Leaving aside the six hours it took for me to get to Manchester, when I eventually arrived, we still just about had enough time to get our supper which Peter had booked at Dishoom. What an incredible slick operation – I haven't experienced service like that for a long time. Despite us being over half an hour late for the booking (we did call to let them know), we were whisked to a table, drinks orders taken and fairly swiftly after that our food order.
Dishoom is contemporary Indian, and I have to say the food was as slick as the service. Our okra fries arrived with our drinks – demolished within minutes. Followed by masala prawns, lamb sheekh kebab, house-style chicken tikka and gunpowder potatoes. Did I mention the service? Super friendly, efficient with plenty of managerial presence conducting proceedings without a hitch. We were in and out within an hour, but dearly would have liked to stay and linger with another glass of wine…
A ten minute walk took us to the Arena and swiftly through (very tight) security and into our seats. A fantastic concert – two and a half hours of all of his best tracks with a super-talented band and backing singers – and of course it doesnt hurt that John Mayer is fairly easy on the eye!
Peter had found and booked us a hotel called Native Manchester. If you havent stayed in a Native before, do yourself a favour and check them out. They are studio apartments in old refurbished buildings or super-cool modern developments or even mews houses, with a great contemporary design and lots of extra details you wouldn't expect. The one in Manchester is an old converted warehouse in the Northern Quarter and has only been open a month.
In fact, I am pretty sure we were the first to stay in our room, as it didn't look like any of the bath/body products had yet been opened. We booked the smallest room as we were only there for one night but it was still spacious and edgy with the original girders and brick work. But wonderful design details – a little table attached to the end of the sofa, a discreet drawer under the sink in the bathroom, gorgeous lotions and potions from Bramble, set up by somebody from Cowshed. Every studio apartment has a little kitchenette which had the basics you would need to cook something simple but everything was quality, even a Sabatier knife!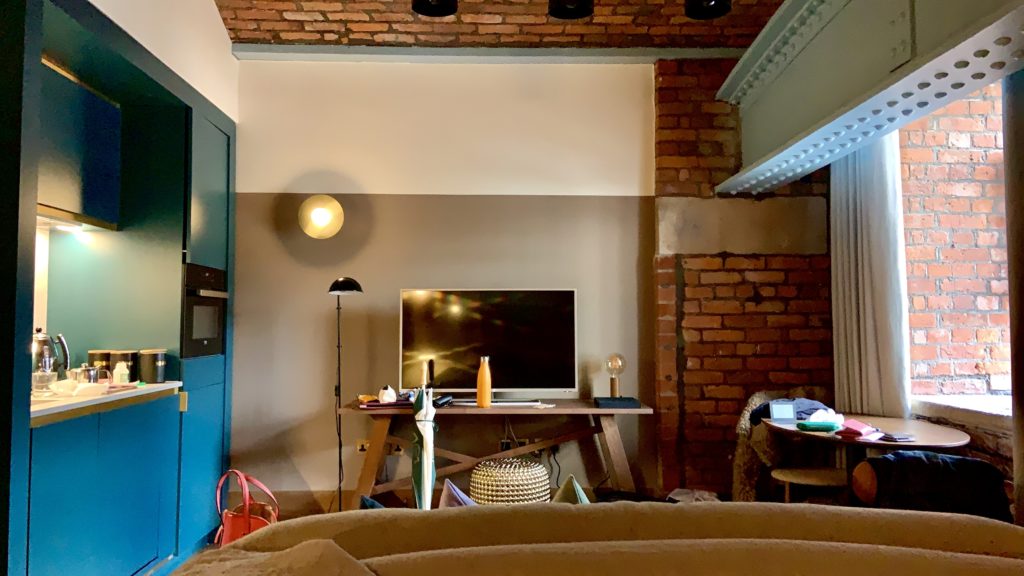 We got a late check out as it was all important rugby World Cup quarter finals in the morning, so whilst Peter languished in bed watching England thrash Australia, I nipped down to the oh-so-cool lobby and fetched us some cinnamon rolls and flat whites – it all felt very New York.
Rugby over and we had a lovely wander through Manchester. Those of you who know me, know that no outing is complete without a stop for coffee, and of course this was no different and top of our list. We found a Scandinavian artisan coffee house called Takk – they actually have three outlets in Manchester, and like our whole experience of Manchester, it was slick, sophisticated and plenty of substance.
Manchester – we will be back, and cant wait!