Last week was certainly a week for winter warmers, if ever there was one, and I, for one, loved every moment.
Whilst our temperatures here in the South of England plummeted to a freezing -6C for several days, the snow fell and our already beautiful countryside looked even more magical. This was indeed an unexpected pleasure, as having had magnificent snowfalls in Istanbul over the past four years, it is not such a regular occurrence in Hampshire.
But back to the winter warmers – this sort of weather definitely calls for warm and hearty fare, usually meaty as far as we are concerned, and gave us all the inspiration we needed for some delicious suppers all week.
Sunday: was a traditional roast rib of beef, as Waitrose had one last rib going cheap (always an eye on a bargain), which we decided to roast using the untraditional reverse sear method, taking inspiration from Jess Pryles and her Hard Core Carnivore book. That means, instead of the usual sear in a pan to brown all over, and then whack in the oven for a short time, you cook it in the oven at a low temperature first, and when it has reached the right colour of pink for your taste, achieved by using a meat thermometer, you rest the meat for a while before searing in a hot pan, which gives it a gorgeous colour as well as wonderful caramelisation. The result was a beautiful even pink throughout with no grey bits around the edges where the meat has cooked a little more. We had this with roast potatoes and roast purple sprouts doused in walnut oil. A triumph, as Thomas would have said.
Monday: Cold rib of beef, of course! With sweet potatoes and horseradish creme fraiche.
Tuesday: A warming and divine Bengali chicken curry from Peter's new cook book, Indian Kitchen by Maunika Gowardhan. I was full of cold and requested a warming curry from Peter, and he certainly delivered!
Wednesday: was the remains of the rib of beef made into a very warming and hearty ragu, which we had with fresh tagliatelle and a winter salad of red cabbage, little gem, goat cheese,broccoli and walnuts.
Thursday: we managed to nip out to Waitrose for a quick stock up before we became completely snowed in, and bought some beautiful fresh Cornish hake – might not sound hearty, but with the addition of chunks of chorizo, and crunchy cubes of potato, it certainly worked for us!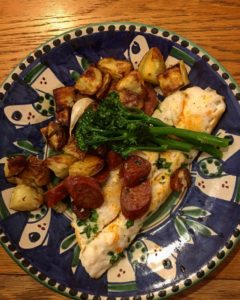 Friday: after several days of being confined to our cottage, with heating and fire blazing, we decided to break out and head to the local pub with some lovely friends and neighbours, and had a gorgeous homemade steak and ale pie in a rich gravy with light crispy pastry.
Saturday was homemade pizza – well, the kids were home from school, what more can I say? Topped with yet more chorizo, and local Laverstoke Farm buffalo mozzarella. Perhaps our least hearty meal of the week.
Sunday – we rounded the week off with a magnificent venison chilli – local venison cooked with several different types chilli, using a fantastic recipe again from Hard Core Carnivore. This was superb – rich, unctuous, with lots of flavour from the sweet chilli, but never overpowering. We ate this spooned in soft tacos with dollops of creme fraiche. This probably wins the vote of most hearty dish of the week.
Usually we try not to drink alcohol during the week, but sometimes you have to throw reason to the wind, and these suppers cried out for full-bodied rich red wines, from a Barolo, to Rioja, to a Southern Italian Primitivo. I have loved our winter week full of snow and hearty food, but I think my waist line will appreciate the spring weather when it arrives!